Sacred Texts
Legends and Sagas
Celtic
Index
Next
---
LEGENDS & ROMANCES
OF BRITTANY
BY
LEWIS SPENCE F.R.A.I.
AUTHOR OF "HERO TALES AND LEGENDS OF THE RHINE"
"A DICTIONARY OF MEDIEVAL ROMANCE AND ROMANCE WRITERS"
"THE MYTHS OF MEXICO AND PERU" ETC. ETC.
WITH THIRTY-TWO ILLUSTRATIONS BY
W. OTWAY CANNELL A.R.C.A.(LOND.)
NEW YORK
FREDERICK A. STOKES COMPANY
PUBLISHERS
[1917]
Scanned at sacred-texts.com, August, 2004. John Bruno Hare, redactor. This text is in the public domain. These files may be used for any non-commercial purpose, provided this notice of attribution is left intact.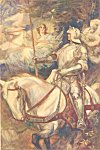 Click to enlarge
GRAELENT AND THE FAIRY-WOMAN



Click to enlarge
Cover



Click to enlarge
Title Page

NOTES ON TRANSCRIPTION: In the original book all titles and subheadings were left aligned. I have centered these in the etext. Also, none of the paragraphs were indented, which makes cross-page paragraph continuations between sentences difficult to recognize. Thus, only intra-sentence paragraph continuations have been marked.--JBH
THE RIVERSIDE PRESS LIMITED, EDINBURGH
GREAT BRITAIN
---
Next: Preface