Sacred Texts
Sagas and Legends
Yeats
Celtic
Index
Next
---
BY THE SAME WRITER--
THE SECRET ROSE
POEMS
THE WIND AMONG THE REEDS
THE SHADOWY WATERS
THE CELTIC TWILIGHT
Printed 1893
Reprinted with additions 1902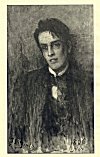 Click to enlarge
Frontispiece

The Celtic Twilight
by W. B. YEATS
A. H. BULLEN, 18 Cecil Court
St. Martin's Lane, London, W.C.
MCMII
Scanned at sacred-texts.com, July 2001. J. B. Hare, redactor. Additional formatting and proofing, January, 2004. This text is in the public domain in the United States. These files may be used for any non-commercial purpose, provided this notice of attribution is left intact in any copy, electronic, or printed.
Time drops in decay
Like a candle burnt out.
And the mountains and woods
Have their day, have their day;
But, kindly old rout
Of the fire-born moods,
You pass not away.
---
Next: The Hosting Of The Sidhe